No recent updates in this category.
Why not...
Phatkhat seven DJ primeCHOICE hasn't earned any badges yet... have you?
General

.. type="application/x-shockwave-flash" data="http://www.raresounds.ca/tunes/rarepplayer.swf?playlist=http://www.raresounds.ca/tunes/poosyjooze.xml" width="280" height="280" wmode="transparent"> ..>

..PHATKHAT7`s HALL OF FAME..

Masia One, Little Brother and Cesar Comanche
PK7 & AFU-RA
9th Wonder
PHATKHAT7 & JERU THE DAMAJA
Big Dap and Jeru Tha Damaja
Ken Masters and Wordsworth
Frank-n-Dank
DJ Evil DEE


Tash of Tha Alkaholiks and my drunk ass
E-Swizzle Swift of Tha Alkaholiks

Music

JAY DILLA + MADLIB = JAYLIB!!! MADLIB + MF DOOM = MADVILLAIN hip hop

,

Asiatykz/RAREsounds

,

Lootpack

,

Madlib/Quasimoto

,

Planet Asia

,

Self Scientific

,

Krondon

,

Little Brother

,

Justus League

,

Jay Dilla

,

the new Elzhi is BANANAS!

,

Dwele

,

Frank-n-Dank

,

Slum Vill

,

Phat Kat aka Ronnie Cash (Undeniable LP is bonkers!) NonPhixion

,

Athletic Mic League

,

Binary Star.. the list goes on... dutty jungle chunes

,

garage house

,

foundation lick-off-a-shot skanka yout reggae chunes dem

Movies

Television

.. width="425" height="350">....>
STYLE IN PROGRESS 2006 TRAILER w/ my 15secs of fame

Books

120 lessons the book of life

Heroes

Father Allah, Jack Bauer, Nacho (ANACONDA SQUEEEEEEZE), my cuzin jeh!roc & 2TWYST.
About me:
before you go any further just to set the record straight...
I'M NOT PHAT KAT FROM DETROIT
I'm
PHATKHAT7 is DJ primeCHOICE
from the TDOT, Toronto, Canada. EMCEE | HOST | DEEJAY | PROMOTER | ACTOR | DESIGNER | rokFRESHesquire | DOWN LOW COMEDIAN | ORGASM DONOR extraordinaire.
i got mad respect for Phat Kat aka Ronnie Cash. Undeniable is fiyah.
2006 brings forth the new team


rokFRESHesquire
jeh!roc | medinaFLAX | PHATKHAT7 is DJ primeCHOICE | duttyRINSE | BIGG L.I.P.
garage/classic house | broken beat | jungle | hiphop | roots rock
deejay collective & clothing concepts
i am a member of

im in the process of finally updating my profile. so in the meantime heres some sh!t to look at.
THAT'S WASSUP
i FINALLY got my tables. its like fisher-price My First Tables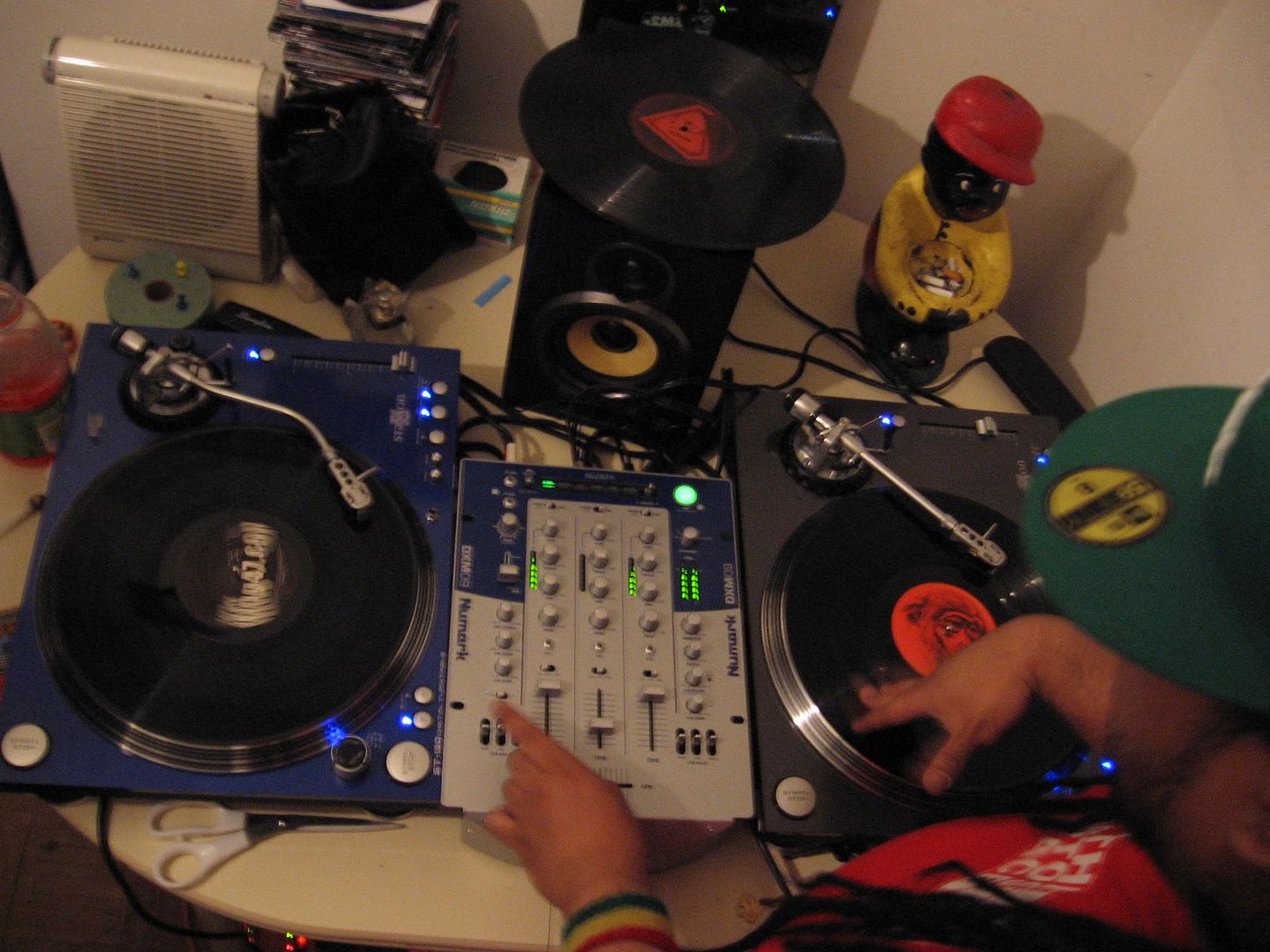 my weapons of choice
stanton 150's (i honestly think theyre better than 12's)
im changing my name to DJ Startin' 2 Scratch. lol
"EMCEES THAT DEEJAY" the series
************
WHERE YOU CAN FIND ME SPINNING WEEKLY
..DJ LAW's MIC MONDAYS @ CHINA DOLL
587 College St W. (west of Bathurst) Little Italy
DJ's LAW & primeCHOICE - HIPHOP | LOVERS ROOTS ROCK
live performances (email fredefame@yahoo.ca to register)
FREE - 19+ - STYLE CODE
THICKthursdays @ TILTlounge
669 College St w. - Little Italy
DJ's jeh!roc & medinaFLAX (rokFRESHesquire)
DJ MERCILLESS
DJ primeCHOICE spinning lovers rock @ the ladie's request
FREE - 19+ - STYLE CODE
JUS REACH FRIDAYS @ DOWNone Lounge
49 Front St. west of Church - Toronto
with sweetTOUCHfoundation
DJ primeCHOICE
HOSTED by Kaygelus AKA gillaTIME
& the.evil.genius
$5 COVER
$3mixed drinks b4 12
21 & over
for party resverations call 416.363.7565

..
Get this video and more at MySpace.com
SOULEDout@REILLYS 5 YEAR ANNIVERSARY w/ STARTING FROM SCRATCH trailer
Who I'd like to meet:
movers & shakers. people that enjoy GOOD MUSIC and actually take this music shit serious. being fly is also a plus.
Status:

Single

Here for:

Networking

Hometown:

True Cipher (Tdot: Toronto/Canada)

Orientation:

Straight

Body type:

More to love!

Ethnicity:

Asian

Religion:

Other

Zodiac Sign:

Leo

Children:

Someday

Smoke / Drink:

No / Yes

Occupation:

entertainer

Income:

$150,000 to $250,000
rokFRESHesquire

Tdot, CA

emcee | deejay | event host | promoter | designer

2006