Play

Play Next

Add to queue
Play

Play Next

Add to queue

1,032 plays

Play

Play Next

Add to queue

5,328 plays

Play

Play Next

Add to queue

4,549 plays

Play

Play Next

Add to queue

2,188 plays
Genre: Club

Location UK

Profile Views: 59749

Last Login: 1/31/2011

Member Since 9/10/2007

Website www.shoshoclothing.com

Record Label Unsigned

Bio

Sho Sho Clothing © is a clothing company that combines washable print, stitch and crystals to any garments, from T-shirts to hoodies and now even jeans and hats. Sho Sho started trading in 19TH October 2007 and has grown immensely from 2-3 orders per week to 30 plus..... The idea was brought to life when noticing a niche within the clothing market then combined this with our passion for the music industry. This is when the clothing line began, primarily targeted at DJ's, artists and any performers or celebrities within the creative industries..... The customised iced out garments were first made for Militant (Rewind, Essex's number 1 Uk supported Event), Jukie, Jammin, Dj Bliss, Dlux, Tneek and others. After sometime of promotion Sho Sho then began customising T-shirts for DJ Ironic, EC, Chipmunk,Wretch 32 plus many more. Sho Sho has built such a repertoire that something special is now being designed for Peter Andre and his family..... The Sho Sho craze has built such a fan base that the general public are now placing orders for garments with their personalised tag names fully BLINGED out!!.... A unique Range of Sho Sho Clothing will be available to purchase from www.shoshoclothing.com from July 2008. .... Look out for the children's BLING range and Sho Sho accessories coming soon..... .. ...... ..SHOSHO CLOTHING VIDEO FEATURES BELOW.... ...... .. SKANK SQUAD -- WAVING THE FLAG .. .. .. .. .. .. .. JAZZIE INTERVIEW KERI HILSON CREDITS! .. .. .. .. .. .. .. SCORCHER I KNOW VIDEO! .. .. .. .. .. .. .. SCORCHER AND WRETCH SKYWALKER & WRETCHROBOYS ADVERT!>>> GET YR MERCHANDISE MADE HERE! .. .. .. .. .. .. .. REC NOBODY CARED! PROMO VIDEO! .. .. .. .. .. .. .. JAZZIE SHOW SNIPPET ****NEW**** .. .. .. .. .. .. .. BEHIND THE SCENES OF THE JAZZIE SHOW FEATURING BLACK THE RIPPER! .. .. .. .. .. .. .. NEW** CHIPMUNK PERFORMS BEAST LIVE SOUTHAMPTON TSHIRT COMING SOON.... NEW WEBSITE COMING SOON...... .. .. .. .. .. .. .. SWAY FT AKON, SILVER AND GOLD! BRIEF FEATURE BUT THE TSHIRT IS HARD! LOL NEXT... .. .. .. .. .. .. .. CHIPMUNK,WRETCH32, SCORCHER .. .. .. .. .. .. .. WO PART2 - ASHER D,DURRTY GOODZ,SWAY PLUS WOAH PART 2 FEATURING NOCTURNAL! .. .. .. .. .. .. .. .... .. .. .. .. .. .. .... .. .. .. .. .. .. .. .... .......... .. .... .. .... .... .. .. .. .. .. .. .. .... .. .... .. .. .. .... .. .... .. .... .. .... .. .. .. .... .. .... .. .. .. .... .. .... .. .. .. .... .. .... .. .... .. .... .. .. .. .... .. .... .. .. .. .... .. .... .. .. .. .... .. .... .. .... .. .... .. .. .. .... .. .... .. .. .. .... .......... .. .... .. .... .. .. .. .... .. .... .. .. .. .... .......... .. .... .......... .. .... .. .... .. .. .. .... .......... .. .... .. .... .. .. .. .... .. .... .......... .. .... .. .... .. .. .. .... .. .... .. .. .. .... .. .... .. .... .. .... .. .. .. .... .. .... .. .... .. .... .. .... .. .... .. .... .. .... .. .... .. .... .. .... .. .... .. .... .. .... .. .... .. .... .. .... .. .... .. .... .. .... .. .... .... .. ....

Members

...... ............Free SHOSHO banner.. for your Myspace.... .. ........ .. Copy & Paste the text below.. into your about me section to add the SHOSHO banner.... .............. .. .... .. .... .. .... .. .... .. .... .. .. ..PROMO DOWNLOAD "CLICK CD" .. .......... .. ..VIDEO ARCHIVE" .. ADAM DEACON- WESTWOOD FREESTYLE .. .. .. .. .. .. .. NIA JAI FT CHIPMUNK & NATTY BOII - HEY GIRL .. .. .. .. .. .. .. .... CHECK OUT NOCTURNALS TSHIRT .. .. .. .. .. .. .. .... CHIPMUNK - MUHAMMAD ALI >>> EXCLUSIVE CM TSHIRT (NOT FOR SALE) .. .. .. .. .. .. .. .... TNEEK - RADIO CLIP .. .. .. .. .. .. .. .... ........

Influences

Sounds Like
No recent updates in this category.
Why not...
Bio:
Sho Sho Clothing © is a clothing company that combines washable print, stitch and crystals to any garments, from T-shirts to hoodies and now even jeans and hats. Sho Sho started trading in 19TH October 2007 and has grown immensely from 2-3 orders per week to 30 plus.
The idea was brought to life when noticing a niche within the clothing market then combined this with our passion for the music industry. This is when the clothing line began, primarily targeted at DJ's, artists and any performers or celebrities within the creative industries.
The customised iced out garments were first made for Militant (Rewind, Essex's number 1 Uk supported Event), Jukie, Jammin, Dj Bliss, Dlux, Tneek and others. After sometime of promotion Sho Sho then began customising T-shirts for DJ Ironic, EC, Chipmunk,Wretch 32 plus many more. Sho Sho has built such a repertoire that something special is now being designed for Peter Andre and his family.
The Sho Sho craze has built such a fan base that the general public are now placing orders for garments with their personalised tag names fully BLINGED out!!
A unique Range of Sho Sho Clothing will be available to purchase from
www.shoshoclothing.com
from July 2008.
Look out for the children's BLING range and Sho Sho accessories coming soon.
SHOSHO CLOTHING VIDEO FEATURES BELOW....
SKANK SQUAD -- WAVING THE FLAG JAZZIE INTERVIEW KERI HILSON CREDITS! SCORCHER I KNOW VIDEO! SCORCHER AND WRETCH SKYWALKER & WRETCHROBOYS ADVERT!>>> GET YR MERCHANDISE MADE HERE! REC NOBODY CARED! PROMO VIDEO! JAZZIE SHOW SNIPPET ****NEW**** BEHIND THE SCENES OF THE JAZZIE SHOW FEATURING BLACK THE RIPPER! NEW** CHIPMUNK PERFORMS BEAST LIVE SOUTHAMPTON TSHIRT COMING SOON.... NEW WEBSITE COMING SOON...... SWAY FT AKON, SILVER AND GOLD! BRIEF FEATURE BUT THE TSHIRT IS HARD! LOL NEXT... CHIPMUNK,WRETCH32, SCORCHER WO PART2 - ASHER D,DURRTY GOODZ,SWAY PLUS WOAH PART 2 FEATURING NOCTURNAL!
.. .. ..
Member Since:
September 10, 2007
Members:
..
Free SHOSHO banner
for your Myspace




Copy & Paste the text below
into your about me section to add the SHOSHO banner


PROMO DOWNLOAD "CLICK CD"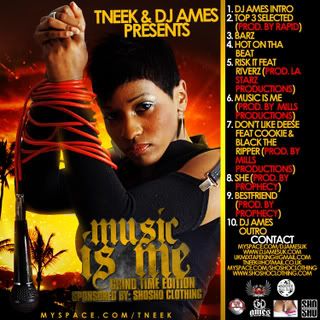 VIDEO ARCHIVE"
ADAM DEACON- WESTWOOD FREESTYLE NIA JAI FT CHIPMUNK & NATTY BOII - HEY GIRL
CHECK OUT NOCTURNALS TSHIRT
CHIPMUNK - MUHAMMAD ALI >>> EXCLUSIVE CM TSHIRT (NOT FOR SALE)
TNEEK - RADIO CLIP
Record Label:
Unsigned
ADD US ON TWITTER /SHOSHOCLOTHING has 5299 friends.