Current mood:
hungover
AUSTRALIAN 'GODFATHER OF GRIME' TOUR
First of all I wanna say a BIG MASSIVE 'Thankyou' to every single person who bought a ticket to come and see us perform. Swear down Ive travelled the world performing and Australia is a Next Hype. It shoots straight into the Top 5 Chart of countries i've performed in. The Weather, Women and Kangaroos were the Boost. Trust me. lol
As much as i was on a 40 degrees, After Party, Alcohol drinkin, Weed Smoking, Aussie Girls, No Top, Gym Ting... i still managed to document the tour by taking alot of pictures and recording bare videos. Ya get me !
This is my Australia 'Godfather Of Grime' Tour 2009 Blog

Firstly we landed safely and then we were put in a 'NICE' Hotel in Perth
Then we had some time to kill so we went to 'BANG BANG STUDIOS' to make some music. Big up Malcolm. Look out for his feature on our new track 'Burn The House Down' haahaaah.
Look at me flexin like i can even play the Guitar or the Drums... "DICKHEAD TING"...
The 40 degree sun rays get you on a hype. Start making you think you can play instruments and shit. We started a band called the 'The Red Backs' out there, we tried to get a £50.000 Record Deal but the labels werent feelings our Riffs. Hhaahahhaah
It's nufing though I get money... !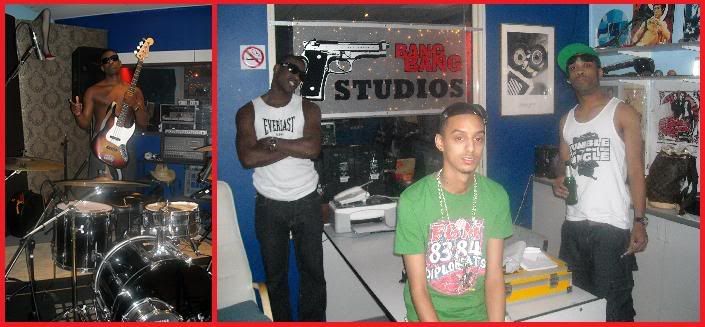 Now 'SHOW TIME'... Seeing as i was performing i didnt manage to get alot of pictures of the shows. But i gotta say they were ALL Good, Welcoming and Big crowds. We met a lot of good Rappers/Mcs out there aswell doing their ting. Big up Murky Depths, Bentman n/h, Sipn, Scotty and Mr Fraksha repping NINE HIGH in Melbourne.

BENTMAN & SIPN LIVE ON STAGE

On our journey of the Aussie Roads we met up with a guy called JAV aka A.C.F (Argentinian Centre Fold). I know Bless Beats will back me up on this when i say this guy knows EVERY SINGLE GIRL IN PERTH. You could be jus casually chattin to a Girl in a club then all of a sudden JAV will 'PRETEND' he is comin over to give you a drink from the bar and fuckin ROB you of the girl you were tryin to do your ting with. Watch out for him if you're ever out in Perth Australia.. He normally stands by the Ladies Toilets lookin for his victims. hhahahahha... nah im joking.
BIG SHOUT to JAV the CHAMPION. This guy NEVER let us have a single SHIT DAY OUT.
After our first show the first place the A.C.F took us to was RED SEA / GOLD CLUB
Here he is gettin up to his usual antics !

Then..... Here we are getting up to our usual Shenanigans :)
AFTER A LOOONG TOUR IT'S DA 26TH OF JAN aka 'AUSTRALIA DAY' !........
Jav and Sipn come to pick us up in the morning repeatedly tellin us how much of a good 'AUSTRALIA DAY' were gonna have.
First we got to the BEST restaurant EVER for lunch.
Its called 'BALTI INDIAN CUISINE' it was toooooooooo Much !
Make sure you visit da 'BALTI INDIAN CUISINE' Restaurant if youre ever in Perth !
Then Bless Beats kept tellin Jav and Sipn to take us to the Ghetto (like we aint seen enough of that in London). So they did......
YOU CAN TAKE THE BOY OUT OF THE STREET, BUT YOU CANT TAKE THE STREET OUT OF THE BOY !
"MADNESS"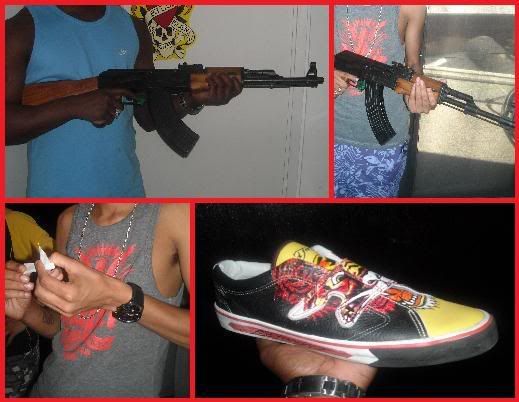 After we went to the Slums we thought we would brighten up 'AUSTRALIA DAY' and go to an ILLEGAL BEACH PARTY on FREEMANTLE BEACH
IT WAS FUCKIN HYYYYYYYYYYYYYYYYYYYYPPPPPPPPPPPPPE !
Everybody bought and brought their own Alcohol, there was BUFF GIRLS EVERYWHERE !
The Music was Bangin.. It was Paradise !
I said a couple lyrics on the Microphone and bun da beach down. I gotta reload on a beach. Haahahahah
I WILL NEVER FORGET THIS DAY !
I got DRUUUUUUUUUUNK in about 7 Minutes approx
After we drunk a whole bottle of Grey Goose Vodka, Moet Champagne, JD and Coke Mixers and Bless Beats lost about 1,500 pounds worth of jewellery in the Sea we headed to the river with about 30,000 people to watch the fireworks display. Sipn you can 'RUN' for ages mate. I had to draw for my Athsma Pump blood !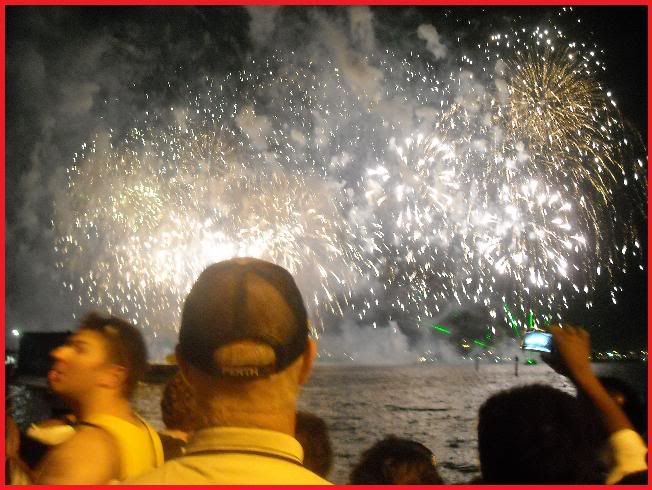 The final firework went off and we headed back to the hotel to get ready for our last night out before we went home. The last night got a bit Alcoholic and for ALOT of reasons no pictures could be uploaded from this night. Big up Jav though, this guy knows how to party with the girls.


Wanna send a Big Shout out to Jav, Sipn, Tim, Tara and Cat for making sure we were always good and Mr Asunda for lookin after us at ONYX club.
All in all i had a WICKED time in Australia and i will be returning same time next year on a Tour of my own, i look forward to seeing YOU if you never saw ME this year. Remember my album 'MICROPHONE CHAMPION' is OUT on the 30TH OF MARCH 2009. Make sure you BUY IT and learn all the words for when i come back next year to Tour Australia. Till next time BIG UP AND KEEP IT GRIMY.
SKEPTA aka SKEPPY aka SKIPPY THE BUSH KANGAROO. Bless
OH YEAH !
CHECK OUT MY NEW VIDEO

'SUNGLASSES AT NIGHT'
DOWNLOAD IT ON ITUNES 16TH OF MARCH
OH SHITTTTTT !... HOW CAN I FORGET
OK.... LAST THING
HOW CAN ME AND BLESS BEATS GO OUT ON THE MORNIN OF OUR FLIGHT BACK TO LONDON FOR SOME LAST MINUTE SHOPPIN AND SEE THIS ?
AHHAHAHAHAHHAHAHAHHAHAHAHAHAA
AHHAHAHAHAHAH
HIDSHIFVF
VHDPVHPD


RAH ! BUN DAT WID DA FIRE !